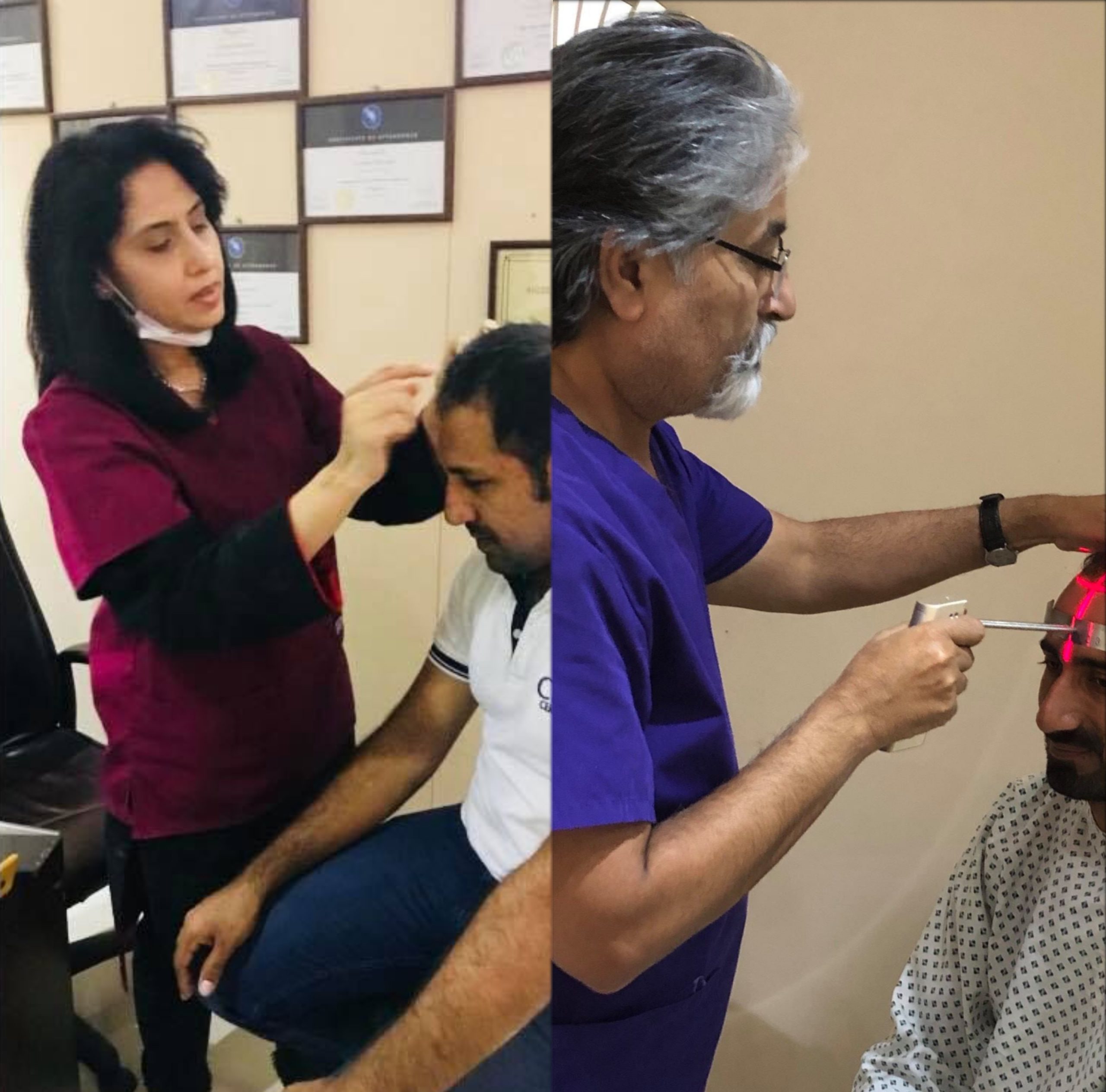 About us
Dr. Firdous Mohyuddin & Dr. Ahmad Touheed
The founder and medical director, Dr. Firdous Mohyuddin is one of the most trusted and sought-after names in the profession. She is the first female hair transplant surgeon in Pakistan who is certified from the American Board of Hair Restoration and Surgery. Moreover, she is GMC (UK) registered.  She has amassed some of the most dedicated and experienced assistants for her transplant team. Together, they provide personalized treatment plans and attentive service – all in a professional, caring and safe environment. She draws upon several years of experience in surgery as a consultant surgeon and brings a patient-centred approach to hair transplantation. Dr. Firdous Mohyuddin is committed to accurately diagnosing hair loss, discussing all options, and using professional judgment to offer hair transplantation only to those who will truly benefit from it.
The co-founder Dr. Ahmad Touheed Khan holds the highest level of experience in his field of Hair Restoration Surgery. In addition, Dr. Ahmad Touheed Khan is GMC (UK) registered. He is known for his light hands and delivers a treatment to make his patients look a natural but a more youthful fresher version of themselves. His expertise encompasses a wide range of treatments including advanced Follicular Unit Extraction Hair Transplant techniques, non-Surgical facelifts, skin tightening, volumizers, sculptural, PRP (platelet-rich plasma) injections and silhouette thread lifting.
Our Approach
Reshape U Clinic distinguished itself by providing Premier Hair Restorative and Cosmetic Surgery services at a reasonable cost to locals and foreigners alike. As the leading Hair Transplant Clinic in Pakistan and the pioneer PRP centre, we guide you by providing authentic information required to make an informed decision based on what is right for you, what your requirements and objectives are, and what will make you happy over the long term. Identifying uniqueness of each client and understanding the need of customisation and personalisation that this identification entails, our team work closely with our patients to assist them in meeting their individual health and personality requirements by working diligently.
Our Difference
The ReShape U Clinic unique offering is focused on

Accurate Diagnosis
Accurate hair loss diagnosis and long-term planning

Natural Looks
Skilled artistry in designing natural-looking hairlines and hair transplants

Advanced Techniques
Advanced techniques to offer virtually undetectable hair transplants

Exquisite Results
Exquisite results with reasonable rates
Our Mission
The RSU's mission is to help hair loss sufferers' look and feel their best by offering exceptional, natural-looking hair transplants that defy detection.
What Our Clients Say
Dr. Firdous Mohyuddin carried out my hair transplant exceptionally well. She has done a great job of building up her credibility; she is the most qualified and experienced hair transplant surgeon in town.

Senior Comedian and Philanthropist
Iftikhar Thakur
I submit my sincere gratitude to the outstanding Dr. Firdous Mohyuddin. She has been outstandingly helpful and provided a high quality of service, care and comfort to me. Thank you.

Senior Actor and Philanthropist
Kashif Mahmood
Firdous Mohyuddin is excellent! She is well-informed, professional, efficient and pleasant to deal with. I cannot recommend her highly enough. She helped make this otherwise stressful journey a little bit convenient.

Senior Singer
Humaira Arshad
"Dr. Firdous Mohayyudin is great. She is extremely knowledgeable and dedicated. Her staff is courteous and I like her way of work.

Renowned Singer
Sarmad Qadeer
Our Specialisations
ReShape U Clinic distinguished itself by providing Premier Hair Restorative and skincare services at reasonable cost to its clientele.
6181

+

Lives Enhanced
93

%

Satisfied Clients
345,000
Queries Entertained
50,240,00

+

Successful Grafts
Are you feeling dejected and concerned regarding your hair fall and hair thinning? Well, your insecurity ends now.